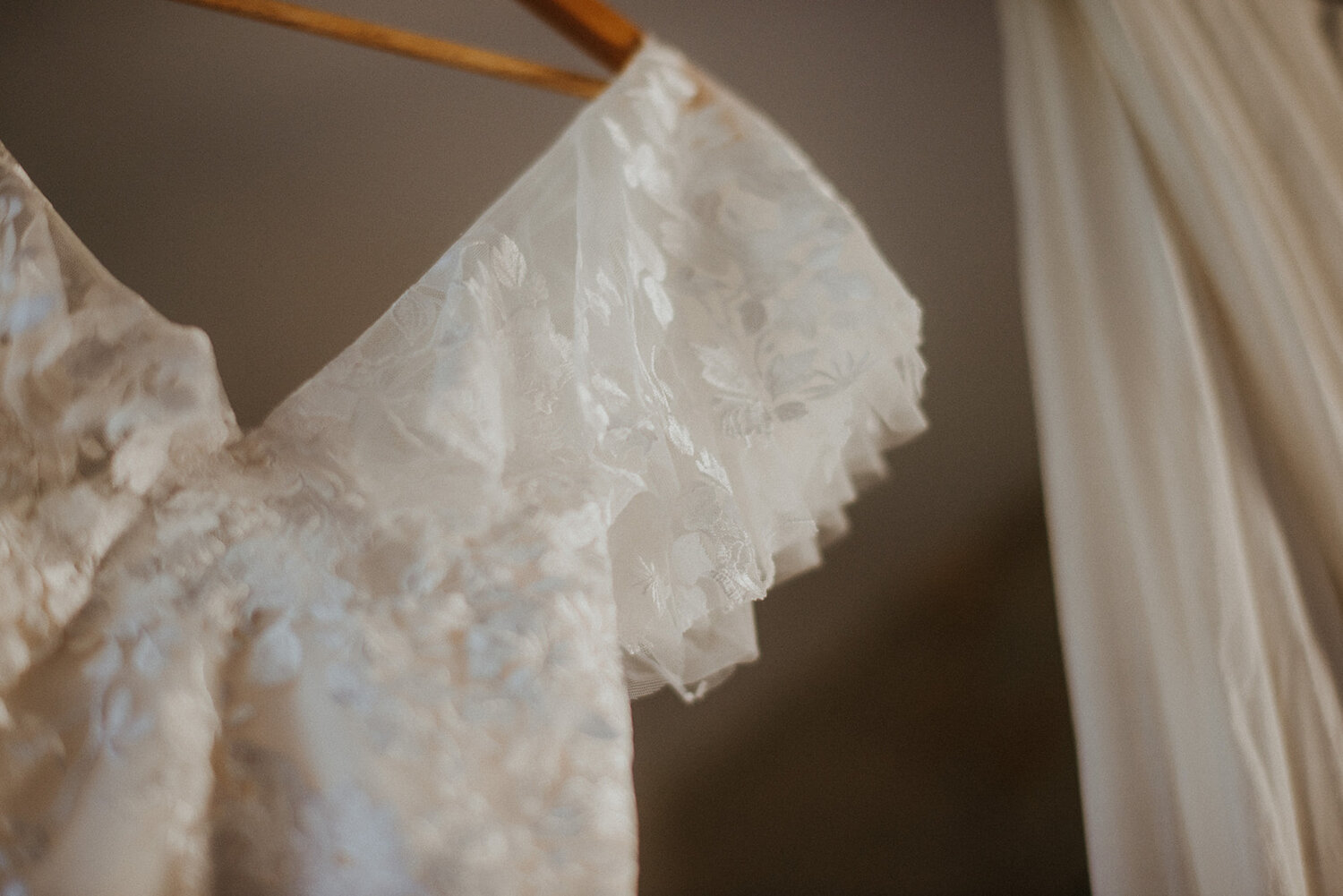 The bespoke option is for the bride who wants a totally unique and one of a kind dress. I work closely with you throughout the design process and together we create luxurious pieces that are all about you and all lovingly handmade in my Kent studio. I love the fun of building your dream dress from scratch and although I now also offer options from 2 collections bespoke design is where I started. I love the journey we go on in the build up to your wedding and you will be involved at every stage from choosing fabrics to finishing details. I am happy to call many of my past brides friends.
Get in touch to discus ideas for your dream dress! Bespoke dresses start at £2250.
Below is a selection of my favourite bespoke dresses from over the years.
Click on an image to expand the gallery
Abi
Simple but chic, classic but cool. Abi's dress had it all with pretty low back, flattering boat neckline and long train. Together we choose the most gorgeous sand washed crepe backed satin to use on her gown, a fabric I completely fell in love with and have gone on to use through my collection since.
Jade
Jade was the perfect client, having previously worked in a bridal shop she knew exactly what she wanted! We took our time over this one ensuring every part of the design was just right and sourcing the perfect fabrics. I just love the unusual floral lace we used which had a metalic thread running through giving the dress an extra lift. For the base we used layers of blush pink tulle with some extra 3D floral appliques for added texture. Her look was completed with a double layer cathedral length veil. Just gorgeous.
Photos by Claudia Rose Carter
Lucy
Lucy opted for a simple but oh so pretty dress with a soft floaty layered chiffon skirt with applique hem and lace bodice. We cut the waist high which was so flattering on her and added a simple silk tulle veil. Perfect for her relaxed wedding at her parents home.
Beautiful photos by Green Antlers and Deborah Grace
Vivien
Wow what a wedding this was! Viv and Ben tied the knot in Morocco in a glamorous bohemian dream! It was such a treat to work on Viv's bespoke dress and I loved seeing our ideas come to life over the process. Viv wanted tulle and lots of drama which we created with this amazing ruffle neckline and super long train. This lace we chose was so pretty on her and the look was completed with a matching lace trimmed cathedral veil.
Photos by Fern Edwards
Mo
Mo was so relaxed and easy to work with through the process of creating her dream dress, and what a beautiful bride she was! This dress was perfect on her with a strong V neckline, pretty lace details on the bodice and a layered tulle skirt.
Beautifully captured by Freddie Reed
Chloe
Chloe works in fashion and had a strong idea of what she wanted: chic, classic and clean lines. I love the simple but elegant design we came up with, the bias cut skirt and seaming details were oh so flattering. We choose the softest pink crepe for the dress paired with a cathedral length ivory veil. Drop dead gorgeous.
Photos by Verity Quirk
Sophie
Sophie was such a dream to work with, she knew she didn't want a 'traditional' wedding dress and I love the one shoulder wrap style we came up with for her. To me it has a real 70's feel, so chic and so cool. We added the one shoulder cape as an alternative to a veil which created some amazing drama in these gorgeous photos from her wedding to Pearce.
Tabitha
The journey of Tabitha's one-of-a-kind dress was such a fun experience and we ended up with something so unique and perfect for her… and very different from the original inspiration we started with! As an interior designer Tabitha is very creative and was involved with every stage of the process from design through to fabric sourcing and final details. She told me at one point that she loved pink and was always trying to sneak it into her work so it wasn't a surprise we ended up with this gorgeous pink organza floral dress!
Photos by Claudia Rose Carter Evening photos by Alex Stewart
Eleanor
Eleanor married Rafi in a sensational sequined & tasseled bespoke 60's inspired dress. We had so much fun working on it together and she couldn't have looked more beautiful on the day! One of Eleanor's main criteria was to be able to dance and this dress really came to life on the dance floor with the tassels creating some serious movement and drama!
I was so excited to see their gorgeous wedding featured on Rock my Wedding.
Photos by Frances Sales
Angela
Angela told me from the very beginning that she was a magpie- drawn to anything that sparkled! Together we found a beautiful glitter lace and mixed in flowing panels of chiffon for some added romance. Her dream dress was finished with a hand beaded green and silver belt to match the ring her fiancé Rob had designed for her. Such a lovely and personal touch. Their amazing festival wedding was full of fun and colour and matched their personalities perfectly.
Angela and Rob's amazing wedding was featured one of my all time favourite blog's Rock 'n Roll Bride!
Photography by Nicola Streader
Elizabeth
Lizzie opted for a simple design which let the fabric do the talking, a gorgeous white Chantilly lace layered over a fine, off-white crepe de chine. The figure hugging shape showed off her curves perfectly with a low back showing just the right amount of skin. The look was finished with a long single layer veil and huge smiles all day long.
Her Isle of Wight wedding to Ben was lively and emotional in equal measures... the pair make an absolutely gorgeous couple.
Mollie
Mollie opted for an original 1950s lace dress which needed some attention! We repaired and relined it as well as adding some quirky details to bring it up to date . As Mollie was so young we wanted to give it a more playful feel and so opened up the back and neckline and added a bow fastening. I love these dramatic photos of her windswept Cornwall wedding day!
Clare
Where it all began! Clare was the first ever Poppy Perspective bride and I have so many great memories of working with her. She opted for a bespoke two piece with a crepe and chiffon layered skirt and lace and crepe blouse. Simple and elegant, it was the perfect choice for her. Her Bristol wedding was a blast and it was such an honour to be invited to be there on the day!